Laveen Veterinary Center & Animal Hospital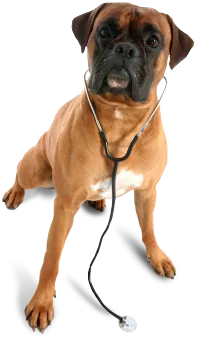 Laveen Veterinary Center & Animal Hospital is a full-service dog and cat clinic. Serving Laveen and the South Phoenix area we understand that your pets' are just like family and their health and well being is as important to us as it is to you.
Dogs & Cats are little people in fur coats
At Laveen Veterinary Center we know that caring for your dog or cat is a responsibility that isn't taken lightly. After all they are merely little people in fur coats, and they matter as much to you as your children. When things go awry, and your puppy or kitten just isn't acting as they usually would, you need a trusted veterinarian that you can turn to.
We are committed to providing compassionate veterinary care throughout the life of your pet. Owned and operated by Dr. Evan Ware, we are an affiliate of the University Animal Hospital in Tempe, Arizona which provides us an additional resource to turn to for the care of your pet.
We are pet owners too
The veterinarians at Laveen Veterinary Center understand the bond that comes with owning a pet after all we are pet owners too. Licensed general practitioners we have assembled an expert team of veterinary professionals to bring you the best possible healthcare for your pet for your cat or dog.
Our state of the art dog and cat hospital is clean, comfortable, and every team member is passionate about treating your pet as we would our own.
VETERINARY SERVICES
Laveen Veterinary Center is accredited by the American Animal Hospital Association to give your dogs and cats the highest level of care.
PREVENTATIVE CARE
Annual exams are essential for the health of your pet. With thorough physical examinations, your pet can live a longer and healthier life.
Preventative exams may also uncover disease earlier through screening tests, which can lead to improved treatment prognosis and enhanced quality of life for your pet.
SENIOR PET CARE AND GERIATRIC MEDICINE
Did you know that our pets may exhibit similar age-related changes just like we do as we age? Conditions associated with aging can be addressed during our 6 month senior examinations as our pets become "senior citizens".
As the quality of veterinary medicine improves, our pets are living longer and happier lives with senior care and geriatric medicine!
PET EDUCATION
At Laveen Veterinary Center, we too are pet owners and we naturally love to talk about pets.
From behavior to nutrition, training and animal care tips, pet education is vital for the health of their furry family member through their life.
Check out our PET BLOG as we address everyday situations such as traveling with your pet to information on the tools we use to treat your pet.
If you have interest on a specific topic, we encourage you to explore our current issues. If you can't find the information you were looking for, please CONTACT US, and we would be happy to supply the information to you.
DOG AND CAT DENTAL CARE AND ORAL SURGERY
Have Max's kisses been less cure and far more stinky? The oral health of our pets is something we take very seriously.
Just like humans, cat and dog teeth cleanings are an essential part of their general health and oral hygiene. A thorough examination of the mouth will help determine if a trip to the veterinary dentist is necessary. It also provides us with an opportunity to discuss with you how to help prevent periodontal disease.
If a tooth extraction is necessary, our veterinarians are skilled in oral surgery, including complicated tooth extractions and flap procedures to prevent open sockets.
LABORATORY TESTING AND DIAGNOSTICS
Laveen Veterinary Center services include comprehensive laboratory testing for your dog or cat. After screening, the results will be discussed with you to help screen, monitor and diagnose diseases.
VETERINARY DIGITAL RADIOLOGY (X-RAY)
Our state of the art digital x-ray and digital dental x-ray machines have high resolution to enhance our diagnostic capabilities. The x-rays are review by our veterinarians and can also be sent for review to a board-certified veterinary radiologist if deemed necessary.
ULTRASOUND FOR YOUR PET
Ultrasound is used to enhance our internal imaging ability so we can visualize internal structures in real time. The ability to view internal structures in real time dramatically improves our diagnostic capabilities.
INTERNAL MEDICINE
From diagnosis and treatment of common and uncommon diseases in our pets, the veterinarians at Laveen Veterinary Center have the experience to treat your pets' illness. Metabolic, endocrine and infectious disease beware, the vets at LVC are here!
GENERAL AND ADVANCED SOFT TISSUE SURGERY
The surgical suite at Laveen Veterinary Center provides an environment for our experienced veterinarians to perform routine and advanced abdominal and soft tissue surgical procedures.
Comprehensive anesthesia is monitored to ensure the highest safety for our patients during the surgical procedure.
Following surgery, we focus on appropriate pain management and post-operative care to facilitate the quickest recover for our surgical patients.
ORTHOPEDIC SURGERY
The veterinarians at Laveen Veterinary Center know which "bones to pick". We utilize our close relationship with Dr. Evan Ware at Phoenix Veterinary Center who has developed a particular interest in veterinary orthopedics. Dr. Ware has the experience to treat patients' orthopedic problems, both surgically and medically.
Dr. Ware's experiences cover a broad spectrum of orthopedic issues, such as the following:
Degenerative joint disease (arthritis).
Complicated fracture repair.
Tibial Plateau Leveling Osteotomy (TPLO) for craniate cruciate ligament injury (torn ACL in people).
PAIN MANAGEMENT
Since our pets can't tell us what hurts, assessing pain levels in our animal patients can be very challenging. Identifying subtle cues, searching for the primary source of pain and developing an appropriate pain management plan is one of our passions.
At Laveen Veterinary Center, you can count on us to provide comfort for your pet when pain management is necessary.
Interested in learning more about the veterinary services at Laveen Veterinary Center? REQUEST AN APPOINTMENT ONLINE or call 602-559-9600 today!
Dr. Evan Ware
Laveen Veterinarian | Laveen Veterinary Center | (602) 559-9600
3536 W Baseline Rd #128
Laveen, AZ 85339
Pet Emergency? Call Blue Pearl in Avondale at 623-385-4555