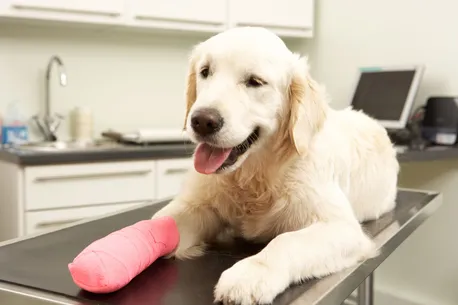 It is common for people to experience orthopedic problems as they age. However, many people fail to remember that their pets can also experience similar orthopedic problems. Most pets develop orthopedic problems as the result of an accident or injury or due to a genetic predisposition to the condition.

Our veterinary orthopedic surgeons near Laveen, AZ and the South Phoenix area can diagnose your dog or cat and determine whether surgical intervention is necessary. We will make every attempt to explain the benefits and risks associated with the recommended surgical procedure for your pet.
At the Laveen Veterinary Center, our pet orthopedic surgeons use state-of-the-art technology during every surgical procedure. While there is always a level of risk associated with any pet surgery, you can rest assured knowing we take every precaution to ensure your pet is a good candidate for anesthesia and surgery.

Dr. Evan Ware is the primary veterinary orthopedic surgeon on our staff. He has expanded his knowledge and skills through advanced continuing education in veterinary orthopedics. He can treat your pet's orthopedic problems both medically and surgically.
To schedule an initial consultation with our orthopedic veterinary clinic, please give us a call or send us an email. We look forward to introducing you to our team and telling you more about the veterinary services we provide.
Orthopedic Surgical Procedures
If your pet has broken or fractured a bone or is suffering from a condition that affects the joints, then he or she may require orthopedic surgery. At the Laveen Veterinary Center, our veterinarians have the proper training and the appropriate tools to correct an affected bone or joint and can help your pet return to his or her normal state. We handle a wide range of orthopedic surgical procedures, including:
As pet lovers, we understand that no one wants their pet to have any type of surgery. However, if surgery is required, then you should place your dog or cat in the hands of the best pet orthopedic surgeon near Laveen, AZ. Call today to learn more about the comprehensive surgical care we provide to pets with orthopedic conditions.
Cost of Pet Orthopedic Surgery
The cost of pet orthopedic surgery depends on many factors, including the type of procedure your veterinarian is performing and the condition your pet is suffering from. To find out the cost of a specific orthopedic surgical procedure, you should call our orthopedic veterinary clinic. Our Laveen veterinary staff will provide you with the most up-to-date information and help you schedule a health assessment for your dog or cat. Call today to receive advice and counsel from the experienced and professional staff at the Laveen Veterinary Center.
Orthopedic Surgery Recovery
After orthopedic surgery, your pet may undergo a lengthy recovery and rehabilitation process. The time frame for orthopedic surgery recovery will depend on the type of surgery performed and the specific condition of your dog or cat. After the surgery is complete, you should monitor the progress of your pet and limit his or her activity until instructed otherwise.
At the Laveen Veterinary Center, our staff and technicians do our best to provide your pet with the best care possible. During orthopedic surgery, we make every attempt to use the finest pain management techniques, including local nerve blocks and epidurals. Our goal is to have your pet return to your home as soon as possible after his or her surgery.
We also conduct follow up examinations to ensure your pet's recovery is proceeding as anticipated. While most pet owners are concerned about the actual surgical procedure, the majority of your appointments with the veterinary surgeon will take place during the postoperative recovery process.
Importance of Regular Health Checkups
Pet orthopedic surgery is one of our passions at the Laveen Veterinary Center. We are pleased to provide a variety of veterinary orthopedic services, from health screenings and diagnosis to surgery and rehabilitation.
However, we also recognize it is more effective to prevent orthopedic problems than having to treat them through surgery or medication. Our Laveen veterinarians recommend maintaining your pet's regular health checkups. These visits give us the opportunity to examine your pet for signs of arthritis or potential skeletal issues.
The sooner we diagnose an orthopedic problem, the sooner we can recommend a treatment plan. Not only could this prevent your pet from requiring a major surgical procedure, but it could also save you considerable time and money.
Best Veterinary Orthopedic Surgeons Near Laveen, AZ
Are you currently looking for the best veterinary orthopedic surgeons near Laveen, AZ and the South Phoenix area? If so, then you should give our well-trained, experienced and passionate staff a chance. Our veterinarians have performed many orthopedic surgeries and have more collective experience and expertise than the majority of veterinary clinics in Laveen, AZ and the surrounding areas.
Contact us today at (602) 559-5500 to schedule an initial appointment and learn more about our orthopedic pet services. You can also send us a message by completing our online contact form. Together we will develop a plan to help your pet recover from his or her orthopedic problems and maintain a healthy lifestyle for as long as possible. Call today!